1. Super High Power
Our Rado 95 is the brightest LED Film light in the world, with 3840W (which matches with a 18KW Conventional light). We have the model available from 150W to 3840W.
With the Rado 95 you will improve your quality light output and efficiency, due to our precise optical lens system.
Comparison Between LED and Conventional Lamp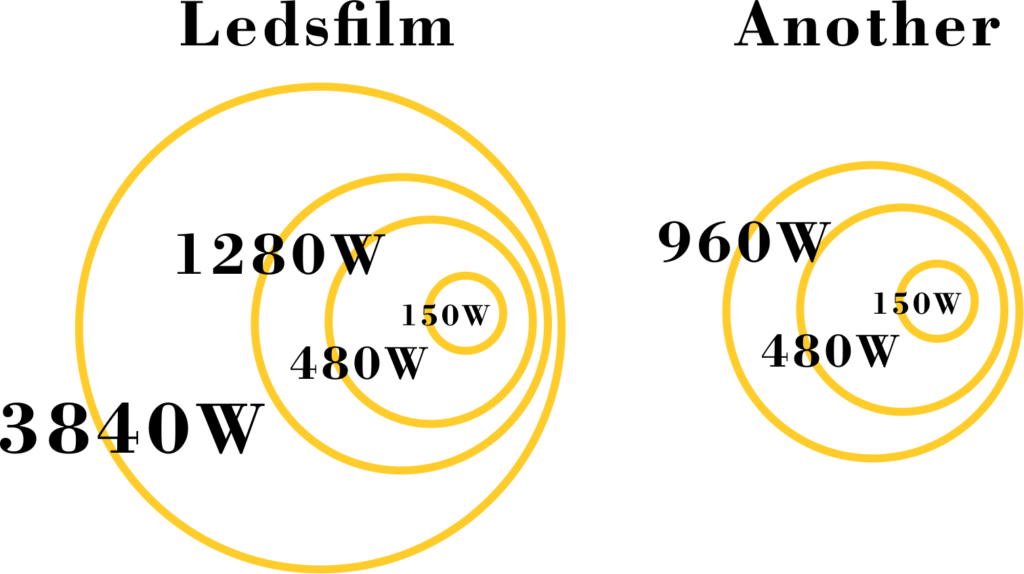 Power available
150W, 240W, 360W, 480W, 640W, 720W, 900W, 960W, 1280W, 1920W, 2560W, 3200W, 3840W
2. High Energy Saving
Energy saving, more than 60% energy can be saved when compared with fluorescent lamp. No pollution (UVs), heat or flickering.
 
3. Small Size and Portable
The Rado 95 (1000W) dimensions are only 72*63*13 cm. It is portable and easy to carry between different shooting spots, as it includes a handle embedded on top of the light structure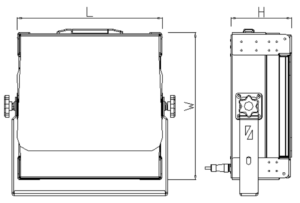 4. Resistant to Impact
Rado 95 is a solid light that can withstand impact, due to an innovative WFC (Wire-Free Chips) technology, which improved its stability and thermal ability in 200%.
Until very recently, the COB (Chips on Board) technology was the only one available. However, in COB, the chips and wire were simply glued against the board, in a very fragile arrangement, which led to higher maintenance rates when bumps occurred. With the new WFC technique, chips are directly soldered into the board with a metal paste (high conductor), while acting as bridges, making the LED light much stronger and more immune to impact.

Important features to emphasize with the new WFC technique:
No Wire connecting chips to board
5 times faster heat conductivity paste
There are more chips in the WFC than on the COB
It can withstand more pressure (around 5 Kg pressure on top), whereas the previous COB technique was more fragile.
5. Green spike free (in terms of colour spectrum)
For the past few years, the LED technology faced the "green spike" issue or problem. This happened not because they were putting out extra green, but rather because the LEDs were deficient in creating photons in the rest of the colour spectrum.
Our R&D department made advances in, reaching a breakthrough in this regard, by correcting the deficiencies. Currently, our LED light is probably the first to have such high power, while keeping the green colour controlled. As it is known, green doesn't go along well with film shooting, since it distorts the natural colouring. In Rado 95, has overcome this problem.

6. Rotating Yoke
The Rado 95 supported by a U-shaped yoke, fixed at two points to the sides of the instrument, providing an axis of rotation. This allows the fixture to point in different angles, in a spherical range of motion encircling the yoke.
1. Product description
Energy saving, more than 60% energy could be saved when compared with HMI Light, no pollution, and flickering.
Working voltage: AC100-240V, 277V worldwide used by its stable performance.
Unique and elegant design with compact con-structure , anodic oxidation and anti-corrosion processing on a surface.
Excellent optical lens and manufacturing processing, high power LEDs, no dazzle but uniform light.
Well-known LEDs and driver, high power&light efficiency, could be 150lm/W for a finished product.
2. Electric light source parameters:
Light Source
Bridge lux
LED Luminous Efficiency
120lm / Watt
Input Voltage
90-265VAC 50-60HZ
Life Span
≥80000 hours
Power Factor (PF)
≥0.95
Work Temperature:
- 25 °C ~ 55 ° C
Power Efficiency
≥90%
Storage Temperature:
- 40 °C ~ 80 ° C
Colour Index (CRI)
Ra>90
Working Humidity
10 % ~ 90 % RH
Light Angle
10, 15, 24°, 38°, 60°, 75 90° 120
IP Rating
IP67
Colour Temp:
2700-3500K
5000-6500K
6500-7500K

Light Attenuation (80000h)
30%
3. Caution
In a case of any damage or accident happened, customers who use this lamp please don't take apart the lamp or change any part of it.
If there is any un-normal condition after installation, such as smoking, peculiar smell, noise, etc. May cause electric shock or fire hazard, please make power off immediately and contact with your installation company. Customers shouldn't disassemble the lamp by themselves at random.
Please ask professional installation company or electrical engineers to install the lamp, follow the user manual strictly. Any improper installation may cause falling, electric shock or fire hazard.
Use clean soft cloth dip soap water for cleaning, then wipe with dry soft cloth.Gasoline, acetone or any other organic solvent is not allowed in case of corroding the lamp body.
Please follow the wiring diagram strictly, any mistake may cause electric shock or damage.
4. Warranty