1. CRI 95
We can proudly announce that our Soft box's CRI is 95, when most LED lights don't even achieve CRI above 90. The colour rendering index (CRI) of a light source is a quantitative measure of its ability to reproduce the colours of various objects faithfully in comparison with an ideal light source. Therefore, our LED soft light recaptures the typical characteristics of a natural light source, which is perfect for filming, and is a worthy replacement for high-power conventional lights.
 
2. LED panels reach 1200 Watt (comparable to standard 6000W)
Each of our compact individual LED panels (120 x 60 x 15 cm), will be reaching up to 1200W, which is comparable to 10.000 W in a conventional light panel. This high power solution, will help you illuminate large areas in a much straightforward way.
Comparison Between LED and Conventional Lamp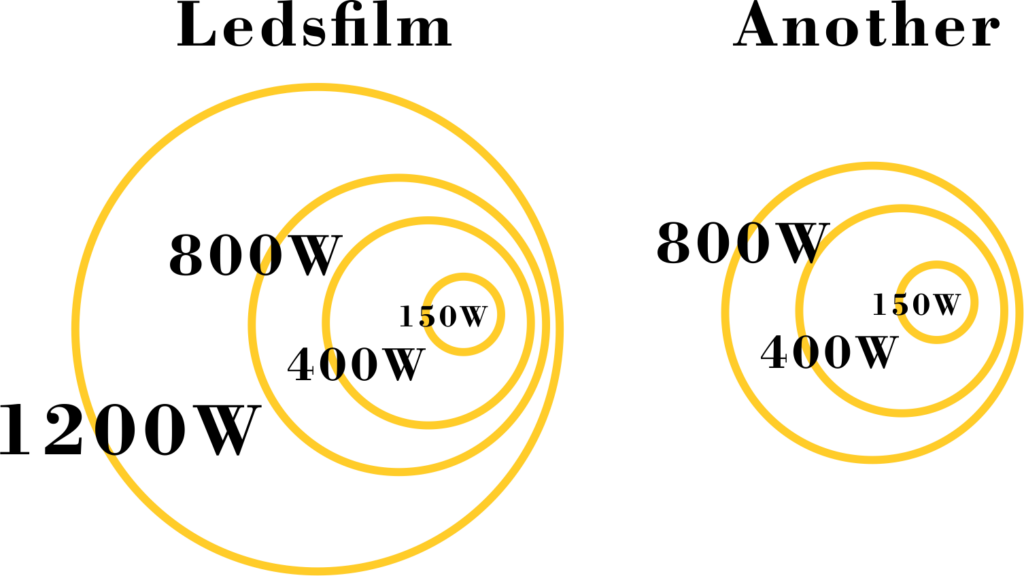 3. Size Expansion and Customization
Our individual standard size softbox is 600 x 1200 mm. What's more, different individual units can be combined or mounted into each other, through a unique system we have developed, creating a much larger soft box. This is an amazing advantage, as you will be able to enlarge or reduce the dimensions of the soft light, regarding the context under which you will be filming, without the need to bring along different products.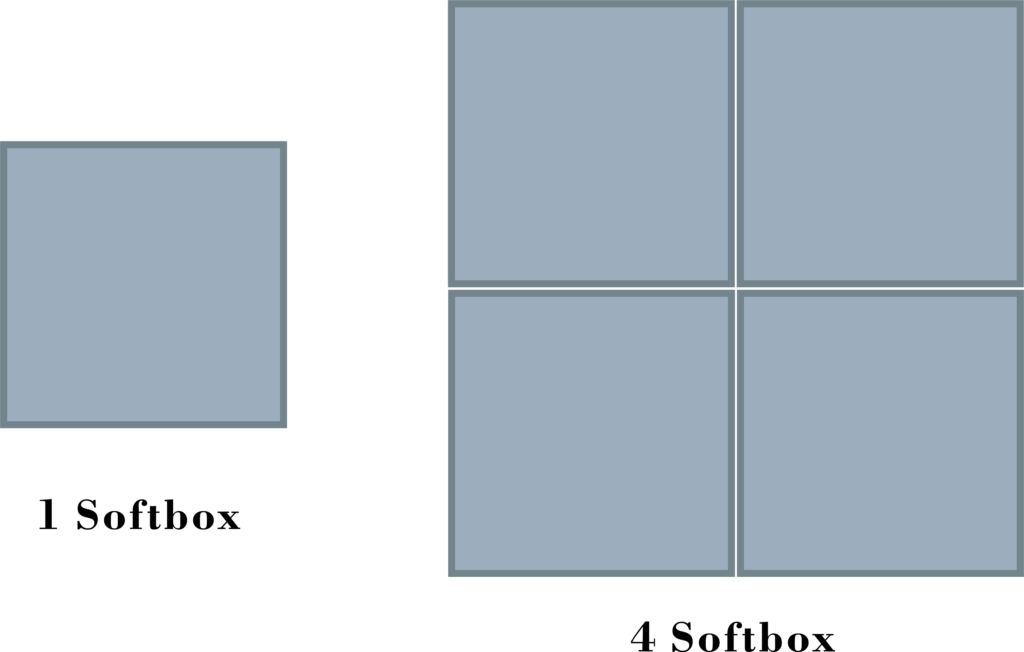 4. Green spike free 
For the past few years, the LED technology faced the "green spike" issue or problem. This happened not because they were putting out extra green, but rather because the LEDs were deficient in creating photons in the rest of the colour spectrum.
Our R&D department reached a breakthrough in this regard, by correcting the deficiencies. Currently, our LED light is probably the first to have such high-power, while keeping the green colour controlled. As it is known, green doesn't go along well with film shooting, since it distorts the natural colouring. Revolt Soft box, has overcome this problem.

5. Easier Post-Production Adjustment
With the Revolt softbox, post-production colour adjustment will be much straightforward to do and the final tune up will reach a superior standard, since the video quality obtained during filming will be higher.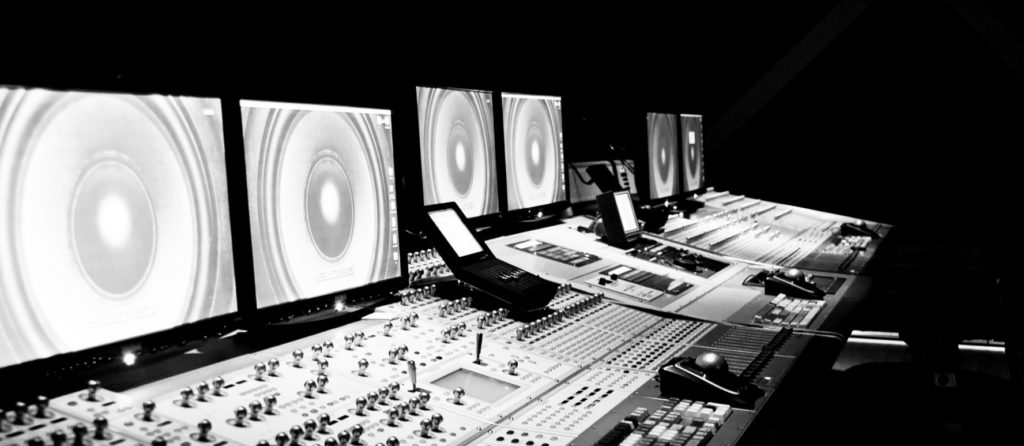 6. Accessory Friendly
Our Revolt is compatible with most equipment. If you plan to do a readjustment and retrofit your fixtures to existing electrical installation and hanger poles, you will only need to exchange the old lights for the new LEDs. So, our soft box, will be convenient to set up either for customers that are installing brand-new equipment or for users who plan on replacing the fixtures, while keeping their old material.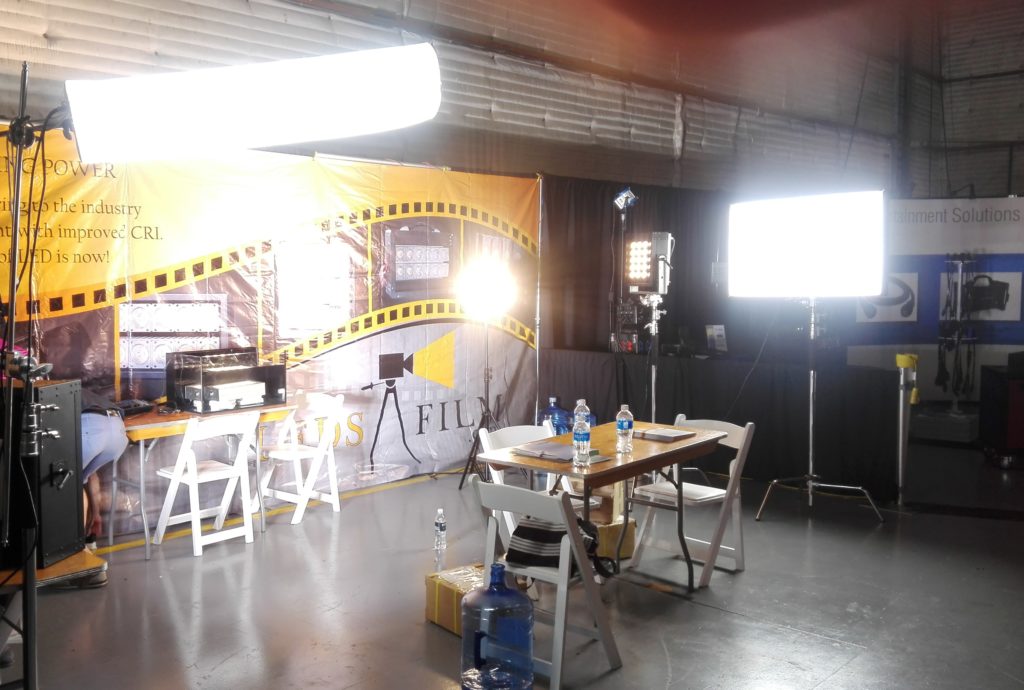 1. Product description
The Revolt is our standard LED Softbox. The Revolt helps the light become more diffused and evenly spread out. You can achieve a great luminosity output (three times as much as a conventional light), while reducing your electricity bill. The Revolt is an area focused light, less specific to a single spot, and which creates a more natural look and freedom of movement for the subjects or actors.
Specifications (for 200W Softbox)
Input voltage: 90-295 VAC 50/60 Hz
Power consumption: 220 watts, max
Lamp head dimensions (with yoke): 318mm X 393mm X 75mm
Lamp head weight: 13.4 lbs. (6 kg)
Power Supply dimensions: 63.3mm x 94.4mm x 370mm
Power Supply weight: 4.7 lbs. (2.14 kg)
Head to power supply cable: 10', 30', 100' 35,000 hr. L70 rated
Environmental temperature range: -20° - +50° C
Max. temperature rise: +40° C
5-year parts and labor warranty
TUV Listed, CE Compliant Zero UV light emitted
2. Caution
In case of any damage or accident happened, customers who use this lamp please don't take apart the lamp or change any part of it.
If there is any un-normal condition after installation, such as smoking, peculiar smell, noise, etc. May cause electric shock or fire hazard, please make power off immediately and contact with your installation company. Customers couldn't disassemble the lamp by themselves at random.
Please ask professional installation company or electrical engineers to install the lamp, follow the user manual strictly. Any improper installation may cause falling, electric shock or fire hazard.
Use clean soft cloth dip soap water for cleaning, then wipe with dry soft cloth. Gasoline, acetone or any other organic solvent is not allowed in case of corroding the lamp body.
Please follow the wiring diagram strictly, any mistake may cause electric shock or damage.
3. Warranty